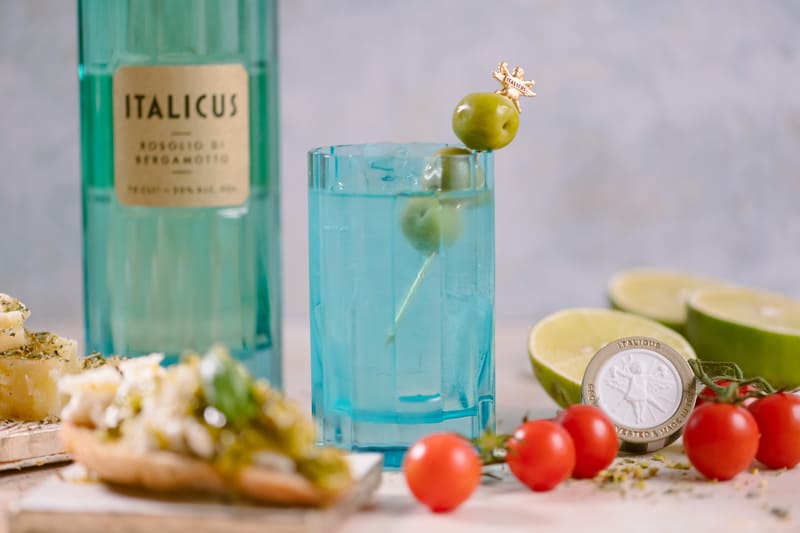 ITALICUS Spritz è  una nuova versione di Spritz, facile da preparare, ideale per un delizioso aperitivo di coppia o per un dopo cena, in occasione di San Valentino. 
Cosa serve per preparare anche a casa l' ITALICUS Spritz, un aperitivo moderno, dal gusto fresco ed agrumato? 
Ingredienti: 1 parte di ITALICUS Rosolio di Bergamotto, 2 parti di Dry Prosecco e 3 Olive Verdi
Preparazione: miscelare in un bicchiere da vino grande, aggiungere i cubetti di ghiaccio e versare il prosecco, guarnire con le olive infilate come perle in un bastoncino. Si può anche provare a sostituire il prosecco con una tonica per gustare una nuova versione di Spritz, dissetante e leggero.
Il rosolio di bergamotto rappresenta la storia della liquoristica in Italia, è buono da solo ma può anche facilmente diventare l'ingrediente base per la preparazione di cocktail che hanno il profumo di casa e una moderna leggerezza. Il gusto aromatico del bergamotto di Calabria, le note del cedro di Sicilia e delle botaniche profumate di ITALICUS si sposano bene anche con i piatti della tradizione mediterranea.
SITO INTERNET: https://rosolioitalicus.com/
SHOP Spirit Academy 
A proposito di ITALICUS® – Il Rosolio di bergamotto ITALICUS® è stato creato da Giuseppe Gallo, che ha saputo riportare in auge l'antica categoria del Rosolio, ormai quasi dimenticata.
Arricchito da note di bergamotto calabrese, ITALICUS® è realizzato utilizzando i migliori ingredienti italiani per ricreare un vero e proprio "sorso d'Italia". Il design sorprendente della bottiglia, capolavoro di Stranger & Stranger, incarna la storia e il patrimonio italiani e racconta come il Rosolio in passato fosse il simbolo del tradizionale momento dell'aperitivo.
Lanciato il 1° settembre 2016, Italicus® è uno degli aperitivi più premiati a livello globale.
Grazie alla sua unicità, ITALICUS® è già stato protagonista indiscusso di numerosi cocktails: dalla creatività e dall'esperienza dei migliori bartender del mondo sono nati alcuni abbinamenti caratteristici di ITALICUS®, che hanno portato nei locali più di tendenza
Ecco, allora, l'ITALICUS SPRITZ, realizzato con ITALICUS® e Prosecco o Champagne; l'IPALICUS, che nasce dall'abbinamento del rosolio con la birra IPA; e il NEGRONI BIANCO, dove London Dry Gin e Dry Vermouth si amalgamano perfettamente alle note aromatiche del bergamotto. Una versione nuova di gustare lo Spritz ITALICUS e soda al pompelmo, un cocktail facile e veloce da preparare anche a casa, da servire come aperitivo. Con il suo gusto fresco e con le delicate note agrumate del pompelmo rosa, ITALICUS e soda al pompelmo, crea il connubio perfetto che richiama la leggerezza e la spensieratezza estiva.
ITALICUS® Rosolio di Bergamotto ha ricevuto il premio come Best New Spirit 2017 al prestigioso Tales of the Cocktail Spirited Awards e, nel 2020 e 2019, è stato eletto come il marchio di liquori di tendenza n.1 da Drinks International.
ART OF ITALICUS – ART OF ITALICUS® APERITIVO CHALLENGE è la competizione ideata da ITALICUS Rosolio di Bergamotto nel 2018 per eleggere il migliore aperitivo ispirato all'arte tra quelli creati dai bartender di tutta Europa. Il contest ha lo scopo di celebrare il cocktail come forma d'arte liquida, esaltandone aromi e profumi.
Con l'obiettivo di innovare la tradizione dell'aperitivo, incoraggiando lo sviluppo di una forma d'arte tanto inconsueta quanto contemporanea, ART OF ITALICUS® APERITIVO CHALLENGE  permette a bartender professionisti, e non, di essere eletti a veri e propri artisti del cocktail e dell'aperitivo, creando nuovi abbinamenti freschi e creativi e realizzando in forma liquida la loro idea di arte.
Il vincitore dell'Aperitivo Challenge nel 2018 è Johan Evers, dalle Svezia con il suo aperitivo cocktail Bergamia, ispirato all'unioneartistica perfetta degli ingredienti, oggi proprietrio di ABC Gemma. Celia Bugallo, spagnola e bartender al Kwãnt bar di Londra, è stata incoronata ITALICUS Bar Artist nel 2019 con The Three of US, un cocktail ispirato dall'arte del flamenco.
Nel 2020, viene lanciata l' ART OF ITALICUS® CREATIVE TALENT, in collaborazione con Moniker Art Fair,  un contest ideato per ispirare e supportare artisti emergenti con la creazione di un opera d'Arte creata per esaltare la storia di ITALICUS e l'Aperitivo Italiano