O' Limoncello Milano-Napoli  &  Amaro D' 'O Nonno sono le due novità del settore spirits

firmate da Roberto Di Pinto in collaborazione con Flavio Esposito.



Grazie alla collaborazione con il "Bar-Chef" Flavio Esposito ha creato una versione contemporanea di grande carattere del Limoncello e dell'Amaro, ispirandosi a ricordi, tradizioni ed emozioni della sua terra d'origine.
Roberto, come già fatto con il suo celebre risotto, ha voluto unire la città di origine e la città di adozione, Napoli e Milano, un meraviglioso trait d'union tra i limoni di Amalfi IGT e lo zafferano, simbolo del classicissimo risotto alla milanese.
Un'infusione di pistilli di zafferano con le bucce di limone per poi dare vita al tradizionale limoncello, O'Limoncello Milano-Napoli in questo caso. Profumatissimo, intenso, dal sapore unico ed inconfondibile.
Il suggerimento è di degustarlo molto freddo, a fine pasto, on the rocks, oppure, come suggerisce Flavio, insieme allo Spumante per un originale Limoncello Spritz .
Amaro D' 'O Nonno invece nasce dal ricordo dalla bevuta dei nonni, solitamente era un liquore, un rosolio della costiera amalfitana che si chiamava Concerto, un nome perfetto per indicare l'armonia delle botaniche.
Questa è stata la fonte di ispirazione per Roberto, con la volontà di riportare quell'armonia in un amaro dal gusto rotondo, profumato di erbe, frutta fresca che richiamano le foglie di mirto e la macchia del Mediterraneo.
Anche in questo caso, freddo, on the rocks, oppure abbinato ad una tonica o ad una soda.
La collaborazione tra Roberto e Flavio nasce dalla volontà di riportare il territorio al centro dell'abbinamento cibo-drink.

Entrambi possono essere considerati dei veri e propri osti che amano creare momenti di grande piacevolezza ed la loro collaborazione è iniziata introducendo nel ristorante SINE by Di Pinto le tre versioni di Acqua di Gin, creazioni di Flavio.
A breve verrà introdotta una carta cocktail dedicata e pensata da Flavio per valorizzare al meglio 'O Limoncello Milano – Napoli, Amaro D' 'O Nonno e Acqua di Gin, in perfetto stile SINE by Di Pinto.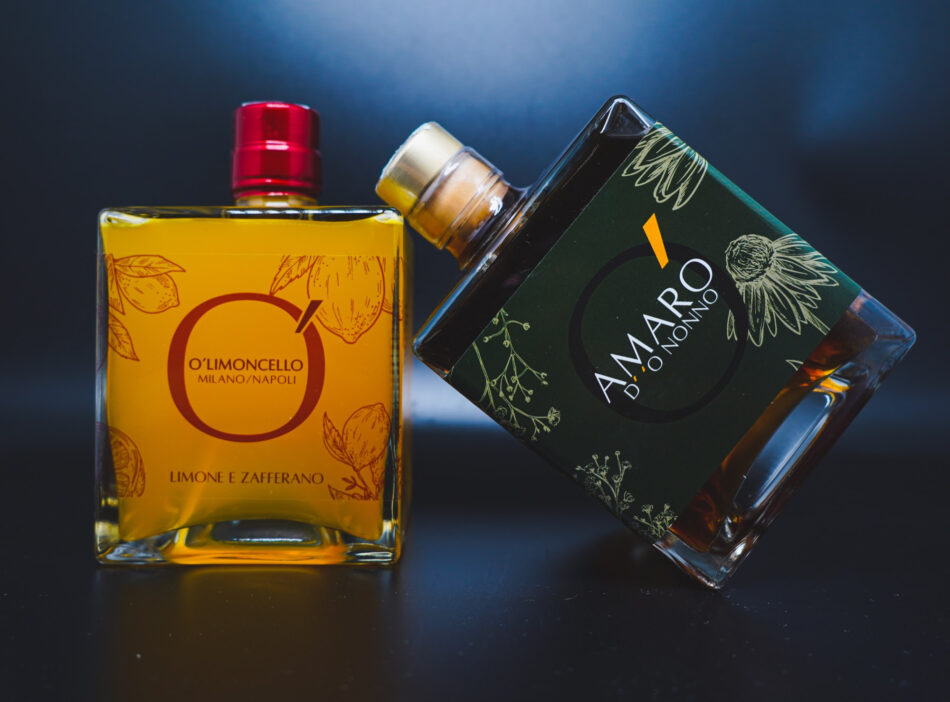 Questi prodotti di fine pasto sono realizzati su ricetta di Roberto Di Pinto da Bespoke Distillery, piccola realtà di Flavio Esposito e Vincenzo Russo, quarta generazione di distillatori di Distillatori Russo 1899.
Sono in vendita nel formato da 500ml al prezzo di 35euro sul sito sinerestaurant.com oppure presso il ristorante SINE by Di Pinto (viale Umbria, 126 @ Milano).
Breve biografia su Flavio Esposito
Napoletano, classe 1987, di adozione milanese. Ha numerose esperienze e collaborazioni con celebri chef stellati che sono stati spesso fonte di ispirazione.
Fondatore del Boutique12 "cucina & cocktail" a Milano e del concept di successo "Spirit of Taste", un percorso sensoriale che parte dal profumo e termina con food e drink, richiamando la declinazione della piramide olfattiva.
Consulente di alcuni progetti di lusso come PROFUMO "SPAZIO SENSORIALE a Roma.
Vincitore di diversi premi nell'ospitalità e Bar industry.
Attualmente Co Founder & Amministratore di BESPOKE DISTILLERY spirit club.