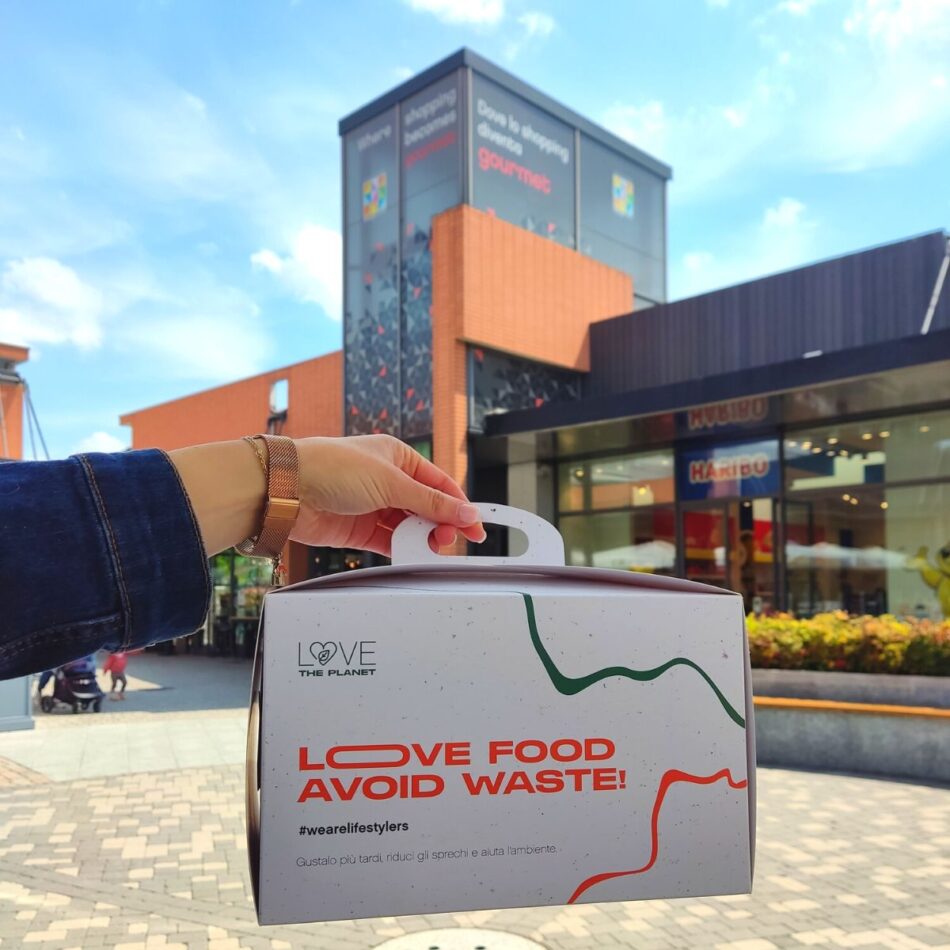 NEINVER, gestore di Vicolungo e Castel Guelfo The Style Outlets, in occasione dell'introduzione nei punti ristoro dei propri centri delle foodie bag ha realizzato un'indagine intervistando i propri clienti italiani.
 Che cosa è emerso dalla survey?
I contenitori per portarsi a casa il pranzo o la cena avanzata quando si è al ristorante, che impazzano da tempo oltreoceano anche tra le celebrities hollywoodiane, sono ora sempre più amati e richiesti anche nel nostro paese.

Insomma, vengono considerati smart, green e very cool!
Più di 9 clienti su 10 trovano che l'introduzione gratuita delle foodie bag sia un'ottima iniziativa!
La metà degli intervistati ha dichiarato di aver già chiesto in passato, almeno una volta, di poter portare a casa il cibo avanzato (perché rinunciare a fare del bene all'ambiente e ad avere la cena pronta?).
Tra chi non lo ha mai fatto, la maggior parte (52%) afferma di non avanzare nulla, mentre il 30% non sa se sia possibile chiederlo.
Solo una minima parte (11%) non chiede la foodie bag perché "teme di essere giudicato" o perché non è particolarmente attento agli sprechi (7%).
Omar El Jarrah, Marketing Manager di Neinver in Italia, commenta:
"I nostri clienti hanno aderito con grande entusiasmo all'iniziativa. E lo stesso hanno fatto i brand della ristorazione presenti nei centri.
Siamo felici di poter dare il nostro contributo, anche con semplici iniziative come questa, per ridurre lo spreco alimentare e promuovere la cultura della sostenibilità tra i nostri consumatori".
L'adesione da parte dei brand della ristorazione presenti nei The Style Outlets di Vicolungo e Castel Guelfo è stata unanime.
Per citarne alcuni, hanno aderito marchi come "Antonino, Il Banco di Cannavacciuolo", punto smart gourmet del noto chef che prende ispirazione dalla tradizione street food napoletana, Saporè, pizzeria d'autore dello chef Renato Bosco, o ancora Farinella, specialista della cucina mediterranea, e Signorvino, wine shop con cucina, e molti altri.
L'iniziativa si inserisce in un più ampio approccio di NEINVER alla gestione sostenibile degli outlet e alla promozione della cultura della sostenibilità tra i consumatori.
Raccolta di abiti usati in collaborazione con Humana, Swap party organizzati con Swapush per dare una nuova vita a ciò che non si usa più, colonnine di acqua filtrata per riempire gratuitamente la propria borraccia e limitare lo spreco di plastica, postazioni di ricarica per le auto elettriche sono solo alcune delle iniziative presenti a Vicolungo e Castel Guelfo The Style Outlets.
In pieno stile The Style Outlets: smart, green e very cool!