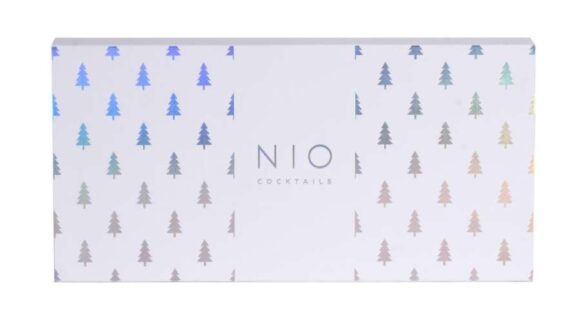 NIOChristmas2021, la proposta alternativa su come festeggiare il Natale con i cocktails ready to share di  NIO Cocktails e la Box per Natale
Un'idea originale e alternativa a quelle che sono le solite proposte in vista del Natale. Un modo diverso per festeggiare le festività con la Box Cocktails di Natale che porta la firma di NIO Cocktails. Un dono del tutto personale da condividere in compagnia per trascorrere delle serate con la giusta atmosfera.
NIO e la Box Cocktails di Natale
La reinterpretazione delle ricette
NIO Cocktails è il leader nazionale di premium cocktail ready to share. In vista del Natale ha deciso di ideare una proposta sorprendente, in grado di deliziare e rendere il clima magico del Natale ancora più suggestivo. Infatti presenta una selezione di sei famose ricette, reinterpretate da Patrick Pistolesi, bartender e brand ambassador, con lo scopo di ritrovare in un sorso tutto il calore dello stare insieme. Ma non solo, in quanto la gioia dello stare insieme e lo scambio dei regali permettono di  vivere un momento speciale con chi si vuole bene.
Le Box di Natale potranno offrire emozioni nuove, abbinando gusto e atmosfera.
Infine, ricordiamo che la Box Cocktails di Natale custodisce sei cocktail natalizi in edizione limitata, racchiusi in un un packaging decorato con motivi iridescenti, perfetta da regalare o come benvenuto per i propri ospiti.

Le spezie invernali e i liquori artigianali arricchiscono le ricette a base di Rum, Gin e Whisky di qualità premium.
Tra queste: Cocktail Spiced Negroni: cannella e anice stellato twist speziato sul bitter gin classico. Cocktail Christmas Margarita: la tequila morbida incontra le spezie aspre di mele e zenzero.
Snow Daiquiri: l'estate incontra l'inverno, rum e ananas con un tocco di zenzero.
Cocktail Christmas in Manhattan: il caldo Whiskey Bourbon si esalta con le morbide note di cioccolato.
Winter Sidecar: il brandy incontra la cannella e il mandarino St Remy XO Brandy.
Cocktail Apple Rum Punch: Una ricetta a base di dark rum con mela e anice stellato Calvados Pere Magloire.