Farmo presenta la sua novità in occasione del Back to school, i Mini Cookies che rendono la colazione gustosa e riempiono le giornate di dolcezza
Farmo annuncia un suo nuovo prodotto in occasione del Back to school! Parliamo dei Mini Cookies Farmo che prendono spunto dai golosissimi biscotti americani.
Una pausa golosa e gustosa, ideale per tutti!
La gustosa novità di Farmo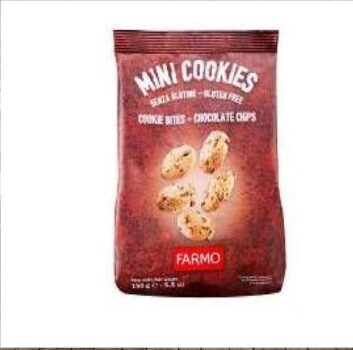 Piccoli, gustosi e ideali per tutti, sono i Mini Cookies Farmo la novità ideata dall'azienda in occasione del Back to school. Adatti per un momento di leggerezza e spensieratezza, per un piccolo break o una merenda gustosa. Nati dopo il successo mondiale ottenuto da quelli americani, questi deliziosi biscottini  sono perfetti per rendere ancora più golosa la pausa, all'insegna della dolcezza.
La loro caratteristica principale è che sono  gluten free.
Nello specifico i biscottini sono ricchi di gocce di cioccolato fondente, contengono farina di avena integrale, farina di riso con zucchero di canna e olio di semi di girasole.
Si tratta, dunque, di ingredienti rispettosi della salute ma che lasciano spazio alla voglia di gusto e di dolce.
Infatti, vengono addirittura definiti un vero e proprio toccasana, in quanto apportano una grande energia, pur consentendo di rimanere in forma e di non appesantirsi.
Mini Cookies per tutti!
I Mini Cookies Farmo sono davvero ideali per tutti (dai più piccoli ai più grandi).
Farmo ha davvero pensato a tutti, con questi biscotti  delicati, deliziosi e croccanti, oltre che rigorosamente senza glutine.
I biscottini gluten free sono uno stuzzicante prodotto bakery Farmo che delizia le papille gustative, appagando di conseguenza il gusto e la voglia di mangiar sano.
Anche uno spuntino può essere importante nel corso di una giornata, soprattutto se si prevede che sarà frenetica e ricca di impegni.
Colazione e spuntini, infatti, occupano un ruolo fondamentale nell'alimentazione quotidiana, perciò dobbiamo tenerne conto.
E, dunque, quale migliore occasione per presentare la novità di Farmo se non quella del Back to school? Un dolce momento che farà partire le mattinate con la carica giusta, riempiendo le giornate di gusto.
Un altro fattore importante è di certo la praticità, in quanto sono facilmente reperibili nella loro confezione da 150 grammi. 
A questo punto, non resta altro che assaporare i nuovi Mini Cookies Farmo!
Perché aspettare?
 Da Sapere 
 Farmo è leader mondiale nello sviluppo e nella produzione di alimenti "better for you", gluten free, plant based, high protein e keto friendly. Inoltre, l'azienda è produttrice dei tre comparti principali, ovvero: pasta, prodotti da forno, dolci, salati e mix di farine speciali ed è presente anche all'estero.