Octavius Bar è l'American bar di THE STAGE Milano. Il luogo per eccellenza del capoluogo lombardo, dove gustare spirits e cocktail.
E sono proprio questi, le sue bevute più iconiche, che Octavius Bar vuole condividere con i clienti affezionati.
L'Octavius Bar: House of spirits and fancy drinks è un luogo unico di Milano. Incastonato in una nave d'epoca ricostruita. Anche il bancone riprende proprio la cabina di un'elegante imbarcazione. In un'atmosfera suggestiva ed elegante, originale e surreale. Luci soffuse, divani in pelle, complementi d'arredo in rame: anche l'arredamento contribuisce. Una tappa dei migliori tour meneghini da bere. Luogo ideale per vivere tradizioni e alchimie uniche, senza ovviamente dimenticare i liquori e i sapori. Propone bottiglie provenienti da tutto il mondo, più di 1100 referenze tra liquori da sorseggiare e distillati. Lo staff è sempre pronto a soddisfare i gusti di tutti i commensali, accompagnando le bevute anche con le delizie del menu bar. C'è anche una sala biliardo privata, ideale per i vostri momenti più magici con gli amici.
In questo periodo di crisi il locale rimane poco accessibile, ma non per questo dobbiamo smettere di viaggiare tra gusto ed emozione. Proprio per permetterci questo hanno deciso di proporre la loro guida ai migliori cocktail. Da fare comodamente a casa propria, con qualche piccolo suggerimento.
Come sottolinea anche Francesco Cione, direttore del locale e miglior bartender d'Italia 2015 secondo Diageo Reserve World Class. Il cocktail è un'esperienza da offrire al cliente, non soltanto un bicchiere di liquore. Con la tecnica si può dar vita a sensazione sorprendenti, racchiuse in un bicchiere di vetro. Per lui la passione, l'entusiasmo e la professionalità vanno a braccetto da anni. Ha lavorato nei migliori ristoranti e grand hotel italiani e svizzeri. Grazie alle sue conoscenze è riuscito a infondere ai suoi cocktail il rango di esperienza sensoriale a tutto tondo.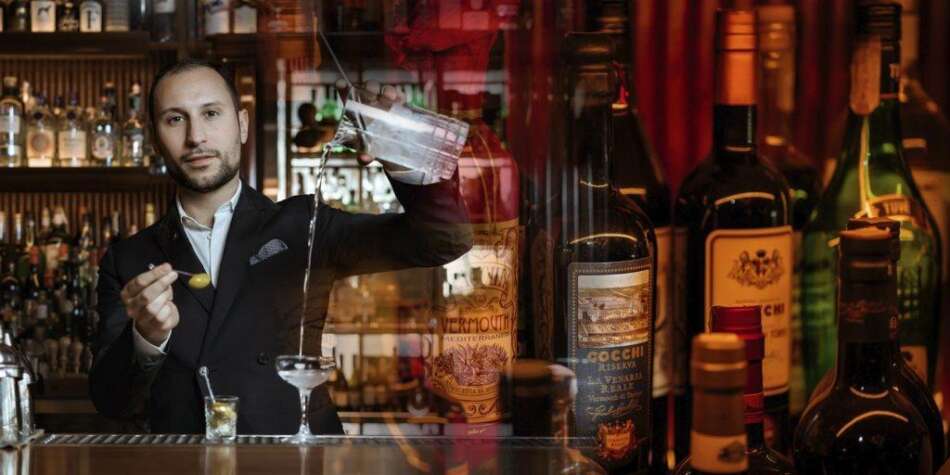 Anche grazie a questo il bar è nella TOP 10 Europea dei migliori bar ristorante. Decretati da "Tales of The Cocktail", la fondazione americana che salvaguarda la cultura delle miscele alcoliche.
Ma ora passiamo ai suggerimenti per un cocktail perfetto. La scelta del bicchiere prima di tutto. Per quelli corposi ci vuole un bicchiere largo con bordo piatto e fondo pesante. Per cocktail shakerati con ghiaccio l'ideale è una coppa con stelo sottile. Un calice per le preparazioni a base di vino, così da ottenere una dispersione più lenta delle note olfattive.
Non devono mancare in casa alcuni strumenti base come lo shaker. Fondamentale per mixare le miscele, tenuto orizzontalmente e agitato con entrambe le mani. Poi il bar spoon o stir, un cucchiaino dal manico lungo per mescolare il fondo del cocktail. Il pestello per preparati i pestati, come mojito, caipirinha o cairiposka. Un frullatore per un mixaggio totale e un misurino, utile per segnare le diverse parti secondo la ricetta. Con questi "attrezzi del mestiere" il divertimento e la bontà sono assicurati anche a casa vostra!