Martedì 14 Febbraio: una serata dedicata a tutti gli innamorati, sentimentali e appassionati
Per San Valentino, concedetevi un'esperienza esclusiva al Magna Pars Suites Milano, primo Hotel à Parfum distillato di eccellenza italiana, suggestiva atmosfera del Ristorante DA NOI IN per una cena imperdibile da gustare in intimità. Il Ristorante DA NOI IN propone una cena che valorizza tutto il meglio della tradizione italiana, sapientemente interpretata con leggerezza e semplicità. Per l'occasione il Menù offre, tra gli altri, un piatto dalle inebrianti note olfattive che stupirà i palati più sofisticati e i cuori più palpitanti.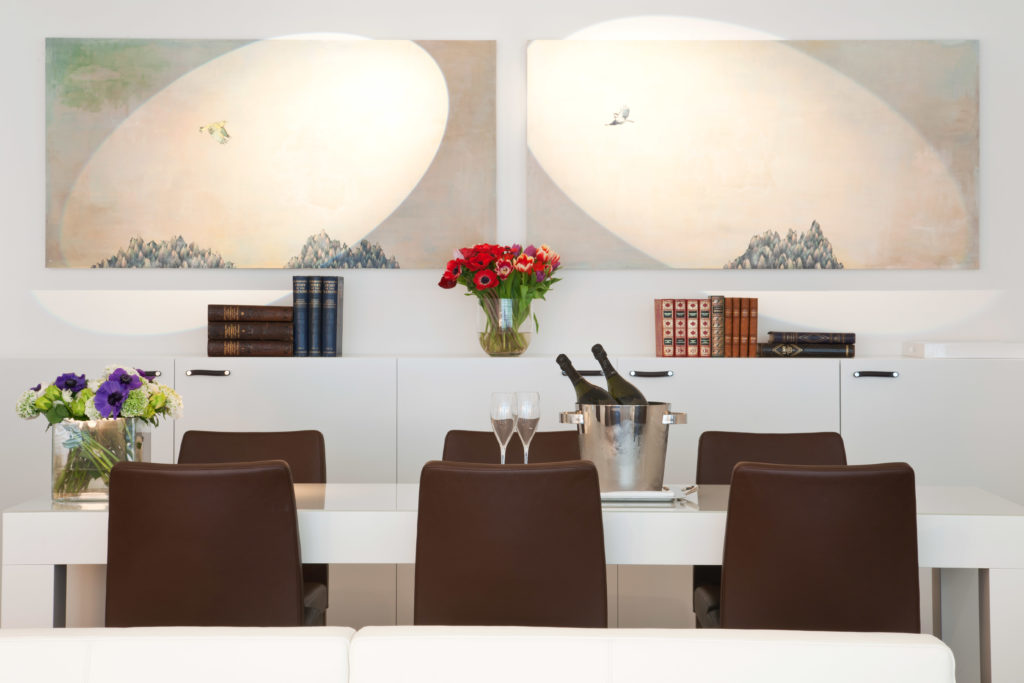 Menù di San Valentino 14 Febbraio 2017



salmone affumicato • alga disidratata • funghi enoki • crema acida • tartufo nero smoked salmon • dried seaweed • enoki mushrooms • sour cream • black truffle
gamberi rossi di mazara • ceviche al melograno • olio essenziale di rosa • mandorle tostate red shrimps from mazara • pomegranate ceviche • rose essential oil • toasted almonds
uovo in gabbia • crema di latte al grana padano • tartufo bianco e nero caged egg • milk and grana padano cream • black and white truffle
gnocchetti di patate • zafferano • scampi • lingotto di caviale calvisius home-made small potatoe gnocchi • saffron • prowns • calvisius caviar ingot
risotto carnaroli riserva san massimo • blu di bufala • castagne • polvere di barbabietola carnaroli risotto • blu di bufala cheese • chestnuts • beet powder
merluzzo in oliocottura • zuppetta di vongole • cardi black cod • clams soup • cardoons
mousse al cioccolato bianco • frutti rossi • sorbetto tropicale • crumble ai fiori di arancio white chocolate mousse • red fruit • tropical sorbet • orange blossom crumble
vini selezione da noi in da noi in wine selection acqua e caffè water and espresso  € 95,00
un lab-cocktail per dissetare il vostro animo
spritz alla rosa
campari • prosecco • olio essenziale di rosa campari • prosecco • rose essential oil
caipiroska alla rosa
lime • zucchero di canna • vodka • olio essenziale estratto naturale di rosa lime • brown sugar • vodka • rose essential oil
36 rosa ~ ammaliante  € 12,00
assoluta di rosa, peonia, geranio rose absolute, peony, germanium
il personale di sala è a disposizione se foste interessati all'acquisto della candela alla rosa, profumo che vi ha accompagnato in questa romantica serata
naso: francis deleamont  € 12,00
Via Forcella 6 – 20144 Milan, Italy – ph.+39 02.8378111- www.magnapars.it
Ogni ospite del Ristorante, che si affaccia sul meraviglioso dehors del Magna Pars Suites Milano, gode inoltre del privilegio di una vista unica nella suggestiva atmosfera del giardino illuminato di notte. Uno sfondo prezioso per una cena indimenticabile. Per completare il vostro soggiorno d'amore, scegliete una delle 39 incantevoli Suites dedicate ad arbusti fioriti, legni ed alberi da frutto.