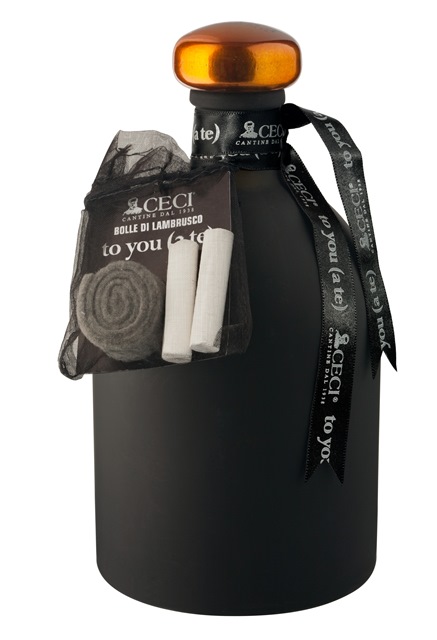 Per festeggiare il Natale all'insegna della creatività, del gusto e della qualità nascono i due nuovi gioielli di Cantine Ceci: in arrivo Birra di Parma P.D.Poule e Bolle di Lambrusco To You, che sorprenderanno gli appassionati di vino e birra che guardano al contenuto senza tralasciare il packaging, in questo caso davvero inedito ed originale.
La birra ha una bottiglia nella fantasia più in voga su tutte le passerelle internazionali del momento, la "pied-de-puole", quadrettato bianco e nero che ricorda la zampa di gallina e che sta invadendo le vetrine delle boutique per la prossima stagione invernale. Ideale per chi non vuole rinunciare ad essere sempre alla moda anche nella scelta della birra o vuole sorprendere con un regalo ad effetto "tres chic".
Aveva preannunciato il suo grande successo allo scorso Vinitaly e finalmente è disponibile l'attesissima bottiglia-lavagna To You, corredata di gesso e cancellino, per dare libero sfogo alla fantasia in una serata con gli amici, in una cenetta romantica o semplicemente usarla come segna-posto in un'occasione particolare. Di sicuro una bottiglia unica per liberare l'artista che è in ognuno di noi e stupire con un ottimo Lambrusco personalizzato di proprio pugno, in ogni occasione.
Birra di Parma P.D.Poule
Birra Doppio Malto bionda non filtrata prodotta in collaborazione con i Mastri Birrai Umbri è una chiara di puro malto d'orzo che si ispira alla tradizione delle Strong Ale. L'aspetto visivo è caratterizzato dal colore giallo intenso, naturalmente velato con riflessi miele e dalla schiuma bianca, di grana media e persistente. Al naso si distinguono nettamente le principali caratteristiche olfattive di questa birra, le note fresche ed erbacee dei luppoli aromatici e le note di malto, miele, caramello, dovute all'utilizzo di malti speciali in questa ricetta. All'assaggio si ritrovano le note dolci di malto d'orzo e caramello, intense ma bilanciate dall'amaro del luppolo, i sentori di frutta matura dovuti ai lieviti da alta fermentazione impiegati, il retrogusto è persistente e complesso.
Bolle di Lambrusco To You rosso
Lambrusco Maestri in purezza Emilia IGT, gradazione 11,5% vol. Vendemmiato ai primi di ottobre subisce una macerazione sulle bucce di 5-7 giorni a bassa temperatura. Straordinario colore rosso violaceo, profumo pieno ed avvolgente di fragole, more e lamponi con accentuati sentori di sottobosco. Gusto morbido e pieno, bilanciato da un'ottima tannicità e acidità. Vino molto versatile da bersi fresco.
Bolle di Lambrusco To You bianco
Lambrusco Maestri in purezza Emilia IGT, gradazione 11% vol. Le uve vengono raccolte ai primi di ottobre e il mosto è ottenuto tramite pigiatura soffice con vinificazione in bianco. Si ottiene un vino brioso dal gusto asciutto e sapido e dal profumo delicato e fresco. Particolarmente indicato per aperitivi e a tutto pasto con pietanze leggere, da consumarsi fresco.
Foto by Cantine Ceci