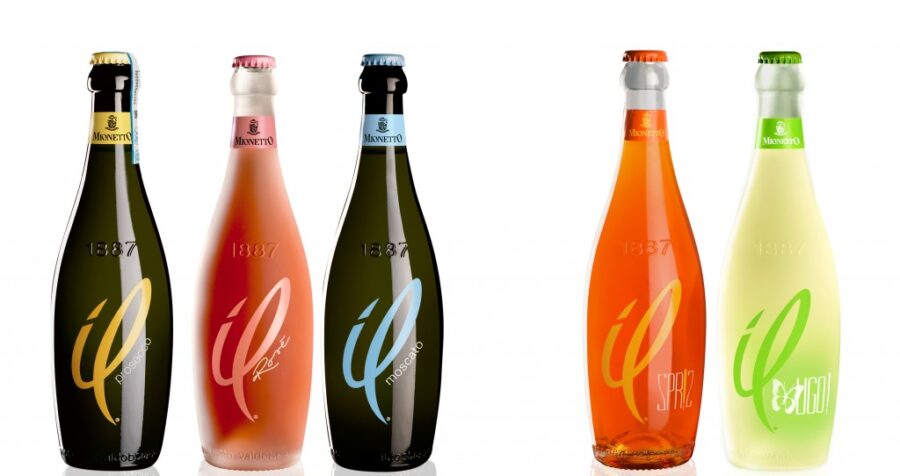 "il", L'APERITIVO E' MIONETTO! Con "il" UGO! la storica cantina di Valdobbiadene arricchisce la proposta degli aperitivi "ready to drink" per un bere facile e conviviale.
 Mionetto arricchisce la gamma degli aperitivi "pronti da servire" all'interno della linea "il", già composta da vini frizzanti, per vivere il mondo delle bollicine nella sua veste più giovane, informale e originale.
Una linea dal successo internazionale che si presenta sul mercato con la novità "il" UGO!:  cocktail dal gusto nuovo, ispirato a un aperitivo originario dell'Alto Adige, a base di vino bianco frizzante e sciroppo di fiori di sambuco. Grazie a una bassa gradazione alcolica (8° C), "il" UGO!, servito in un ampio calice a stelo con ghiaccio, una foglia di menta e una fetta di lime è l'aperitivo ideale dell'estate, fresco e pronto da degustare.
A una base di vino bianco frizzante, elaborato in autoclave a basse temperature con vini provenienti dall'area del Triveneto, viene miscelato uno sciroppo di fiori di sambuco prodotto in Austria le cui note fruttate si sposano perfettamente con gli aromi del vino, per un finale con lievi sentori di pesca e miele.
"il" UGO! si affianca al già celebre "il" SPR!Z, interpretazione "ready to drink" di Mionetto della tradizionale proposta veneta diventata il "must" degli aperitivi. Un'accattivante alternativa alla formula miscelata al momento nei locali, già pronta da versare nel bicchiere e anch'essa a bassa gradazione alcolica. "il" SPR!Z, servito con abbondante ghiaccio e una fetta di arancia o un'oliva, accompagna il momento dell'aperitivo in modo fresco e piacevole,  grazie all'armoniosa combinazione delle fragranti note del vino bianco frizzante con quelle dell'arancio dolce e con il gradevole amaro di agrumi ed erbe selezionate.
Due proposte,"il" UGO! e "il" SPR!Z, formulate pensando ad un consumatore sempre più alla ricerca di soluzioni a bassa gradazione alcolica e già "pronte da versare" per degustarle al bar o a casa con gli amici.
"il" UGO! e "il" SPR!Z  completano la linea "il" di Mionetto composta da tre vini frizzanti: "il" Prosecco D.O.C., "il" Rosé e "il" Moscato.
La linea "il",  dall'immagine innovativa, rappresenta al meglio la capacità di Mionetto di recepire gli stimoli del presente e le diverse esigenze del mercato. Anche il design delle bottiglie rispecchia la natura di prodotti unici che esprimono la loro particolarità già dai nomi (semplici, diretti e dall'impatto immediato) e nell'adozione di una grafica giovane e cool. Caratterizzate da un moderno e comodo tappo a corona, le bottiglie della linea "il" si presentano in diversi formati in grado di soddisfare tutte le richieste nei diversi momenti di consumo:  750ml per "il" UGO!;  750ml, 375ml, e 200 ml per "il" SPR!Z; 750ml e 375ml per "il" Prosecco D.O.C., "il" Rosè  e "il" Moscato.
Mionetto linea "il", casual lifestyle.