Bilancio più che positivo per le Cantine Ceci a Vinitaly 2013, il cui stand è stato giudicato da molti il più vivace di tutta la fiera.
Migliaia le persone che hanno fatto sosta all'area dell'azienda di Torrile per degustare i vini o semplicemente per curiosità. Consumatori, buyer e media sono stati conquistati dall'allegria e dalla vivacità dei colori della nuova Wine Color Therapy, gioia per gli occhi, ne hanno apprezzato lo spumante, si sono divertiti a lasciare la loro firma su To You, la bottiglia/lavagna.
Una limited edition di dieci cromie sfavillanti che farà impazzire gli amanti del collezionismo. Gli inconfondibili e vivaci cartoni di Otello Dry2 – edizione Wine Colors Therapy, contengono infatti sei bottiglie, di un brillante colore metallizzato, dal giallo, al verde, al blu, ma tutte di un colore diverso. All'interno Otello Dry2, vino spumante Blanc de Noir ottenuto da uve Lambrusco Maestri (varietà presente nel territorio parmense) e Pinot Nero, vinificati in bianco con un profumo moderatamente aromatico di note di frutta, di miele, lievi note speziate. Il gusto fresco e morbido dona nel finale una sensazione di pienezza e rotondità.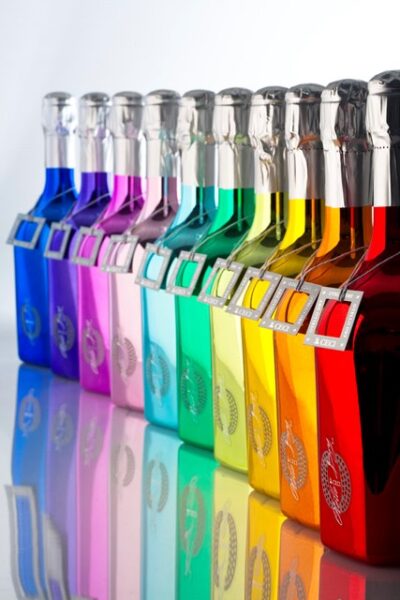 Dato che il vino spumante di Otello Dry2 è bianco Cantine Ceci ha voluto dare vita a un'energia visiva unica e una forma al colore con la prima Wine Colors Therapy.
Rosso come la vita, fuoco e amore, energia e luce, forza e salute; Arancio come energia, apre la mente donando una sensazione di entusiasmo e ottimismo; Giallo come intelletto tonifica i nervi e facilita l'autocontrollo, è associato anche alla saggezza; Verde armonia e amore, il colore della Natura per eccellenza che dà pace ai sensi e simboleggia l'equilibrio e la pace; Blu creatività legato anche alla verità e alla calma; Viola spiritualità stimola l'intuito e favorisce la concentrazione e l'ispirazione (tesi sostenuta anche da Leonardo Da Vinci). Se poi al nettare di Bacco si aggiungono le proprietà benefiche per il corpo e per la pelle attribuitegli dalla scienza, quali le fitoalessine come il resveratrolo, i bioflavonoidi come le proanthocyanidine, i polifenoli come la quercitina e i tannini e gli acidi organici come l'acido tartarico, ingredienti principali utilizzati anche nella vinoterapia, si può considerare il vino un vero e proprio elisir di lunga vita.
Grande successo anche per l'innovativa bottiglia/lavagna To You, dall'originale design, rivestita in grafite, con al collo un elegante sacchettino con gessetti e cancellino. Un modo del tutto originale per dire quello che si vuole attraverso una bottiglia che può essere usata come segna-posto, per fare una dedica o per tenere occupati i bambini al ristorante divertendosi. All'interno Lambrusco Maestri delle Cantine Ceci ovviamente.
Altra novità di Vinitaly 2013 è stata Veleno, un vino più secco dedicato ai puristi del Lambrusco, ottenuto sempre dalla varietà Maestri, contenuto in un'insolita bottiglia rotondeggiante che ricorda quella di uno sciroppo medicinale.
Allo stand non mancavano ovviamente il mitico e pluripremiato Otello Nero di Lambrusco, Birra di Parma Oro, Bronzo e Camou, Terre Verdiane, Decanta e i vini della linea Ducati Caffè.